Snorkeling the Similan & Surin Islands since 1988
Experience the stunning beaches and pristine underwater world of Koh Surin on a liveaboard snorkeling boat
Safety & Comfort
We have been snorkeling the waters of the Andaman Sea since 1988. We are the single longest running tour operator in the region. Surin Tours is proud of our outstanding safety record. You'll love our Swedish-designed and purpose built 16m long snorkeling boat. It is fully equipped with state-of-the-art safety gear and meticulously maintained all year round.

The safety and the comfort of our guests is our highest priority.
Unlike some tour operators, we will never exceed maximum passenger limits, and regularly check and replace all our on board safety equipment.

You will enjoy a far quieter, more comfortable, and relaxed Surin Islands tour compared to the faster, but crowded speedboats. Sleep in air-conditioned comfort in double or single bunks and have room to move and relax on your Surin Island snorkeling tour.
Unique Experience
Experience the magic of traveling and snorkeling the Surin Islands from a liveaboard boat. Take the time to really explore all the Surin Islands, without having to rush back to the mainland. Over three days, you'll visit many locations at Koh Surin, including nearby Richelieu Rock. At night, we lay anchor in scenic and protected quiet bays.

You can see nocturnal marine life early morning or late afternoon if your're keen. Speedboat Surin tours arrive too late and leave too early to see the amazing sea creatures active during those times.

The boat seldom strays too far from the shore; so you can go snorkeling, explore deserted beaches, or just relax on the boat. Weather permitting, we make a stop at the famed Richelieu Rock on our way back. Richelieu Rock is rated one of the top 10 dive sites in the world!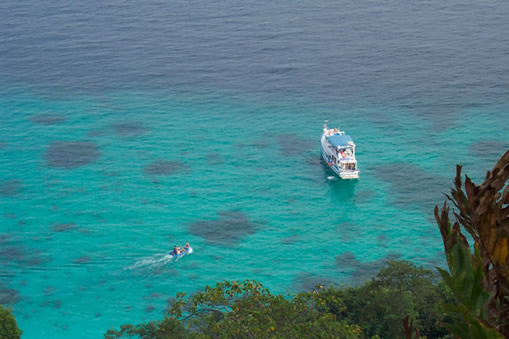 High Quality, Low Price
For just 10900฿ - it's still the best value-for-money Surin Islands liveaboard snorkeling trip available. It's almost half the price of our competitors. The boat is well equipped with high-quality snorkeling gear and modern safety equipment. It has a fresh water shower and two flushing toilets. The boat also has comfortable seating areas, plus a motorized zodiac and an experienced crew and guide.

Our two chefs regularly serve delicious meals and beverages - a noted highlight for many of our guests. Our captain and crew have decades of sailing experience and know the waters around Surin Islands intimately.

No other company can match our high quality, value-for-money liveaboard tours. Take the plunge and book your Surin Tour early - our tours tend to get fully booked during peak times, so please book early to not miss out.
Enjoy the snorkeling trip of a lifetime
Live aboard - Live the dream


"What I loved about this tour is that the guide was happy to get off the beaten track and show us the secluded beaches and uncrowded reefs. This was the highlight of our trip to Thailand and I will definitely do another tour with Poseidon on my next visit"
"The boat and guide was everything I hoped for, and more. Taking a multi-day tour really makes a difference. I would have never discovered so many beautiful places or got to relax and really enjoy the moment on a short day trip"
91%
5 Star Trip Advisor Reviews