Surin liveaboard tours are a Swedish and Thai owned family-run snorkeling tour company. We are the original snorkeling tour operators on the Andaman Coast. I'm Olov, a Swede, and my Thai partner Tukkata, first established our Khao Lak snorkeling tours and secluded beachfront resort – Poseidon Bungalows back in 1988.. For almost 30 years, we have operated popular snorkeling Khao Lak tours to the Similan Islands.
Surin Liveaboard
I designed and built the 16m "Choke Duang Ta" in nearby Ranong, specifically as a liveaboard snorkeling tour boat. With only 17 guests allowed on board per trip, she is a very comfortable vessel. Over the years, she has been lovingly refurbished and upgraded several times. Every low season she is pulled out of the water and given a full safety check. She is immaculately maintained by her captain and crew all year round.
Experienced Team
Over three decades, my team and I have pioneered the snorkeling tour industry in this part of Thailand. We have run regular Khao Lak snorkeling trips ever since. We used to run snorkeling tours to the Similan Islands, and now more recently to the Surin Islands, with an absolutely perfect safety record. From our earliest days in Thailand, we have been local advocates for marine and nature conservation and education.
Best Snorkeling in Thailand
After 30 years, we stopped our popular liveaboard tours to the now overcrowded Similan Islands. Instead, we go to the majestic Surin islands. Koh Surin Marine National Park offers the best snorkeling in Thailand. With far few day trippers and much healthier coral reefs, Surin Tours now focuses only on the Surin Islands and Richelieu Rock.
Koh Surin – Remote and Pristine
During the season, we exclusively bring small groups of visitors to Koh Surin twice-a-week. The more remote and pristine Surin Islands National Park is worth the extra distance to reach. Snorkeling Khao Lak simply cannot compare to the silky smooth, clear turquoise waters of the world-renowned Surin Islands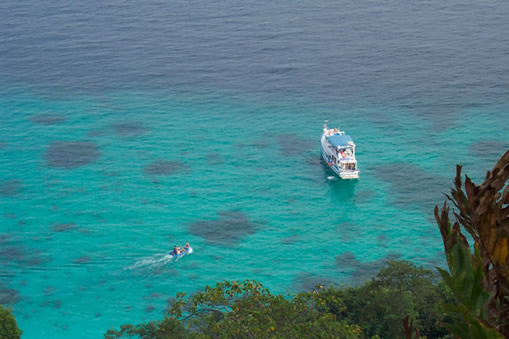 We run two Surin islands snorkeling trips per week. Snorkeling the Surin Islands from Khao Lak has never been easier and more enjoyable. Take the plunge and reward yourself with a multi-day, Surin snorkeling trip. Snorkeling Koh Surin from a liveaboard is a must do for anyone serious about experiencing the best snorkeling in Thailand.