Mu Koh Surin National Park
The Surin islands or the Mu Koh Surin National Park is an archipelago of five islands in the Andaman Sea. Koh Surin lies about 60km west from the Thai mainland. The islands of the Surin archipelago cover an area of 141km² (76% of which is ocean). The northern most island is just 18km south of the Burmese oceanic border.  About 10km south west of Ko Surin lies the world-renowned Richelieu Rock. It is one of the top ten dive spots in the world.
The park is closed during the monsoon season from 15 May – 15 October every year. Because of its remoteness, the Surin Islands receive less visitors than other islands closer to the mainland.


Shallow and deep waters bring a high diversity of species
The Surin National Park contains both extensive shallow reefs and nutrient rich, deep sea waters. Deep ocean currents flow in from the nearby Continental Shelf. These currents bring both nutrients and a varied assortment of oceanic species not commonly seen near land. These two factors, combine to make Koh Surin a fantastic place to see the largest marine species in Thailand.
Rare and vulnerable species of Koh Surin
Iconic species like Whale Sharks (up to 18m in length) and Oceanic Manta Rays (up to 9m), pass through the park during the right season. Whale Sharks can be sighted during January to May. Giant Oceanic Manta Rays migrate past the Surin Islands from early December to the end of April.
Other rare marine species occasionally seen in the waters of Ko Surin are endangered species like the Green and Hawksbill turtle. Harmless leopard, black and white tip reef sharks are also found in the waters of the Surin Islands. These reef sharks pose no threat to humans, yet sadly we have seen their populations decline significantly over the past 30 years.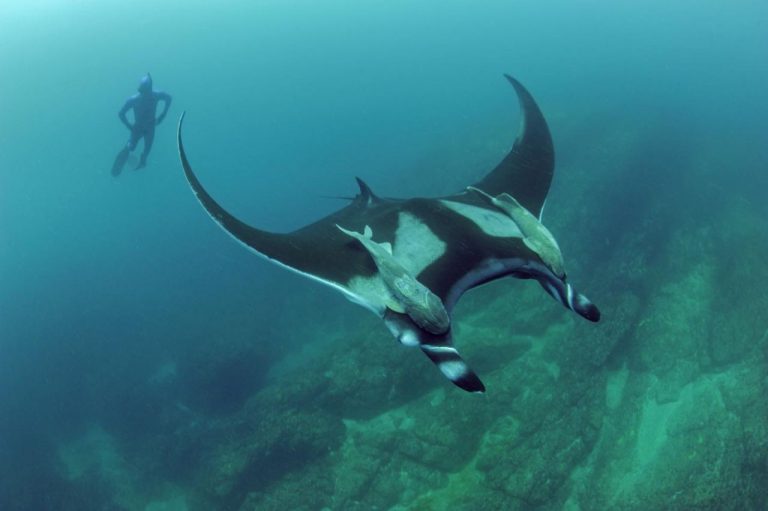 Vital marine habitat
Koh Surin is an important nursery for blacktip reef sharks. The ongoing protection of its extensive but fragile reefs is crucial. Ending shark fin fishing is also vital for the long term survival of the species.